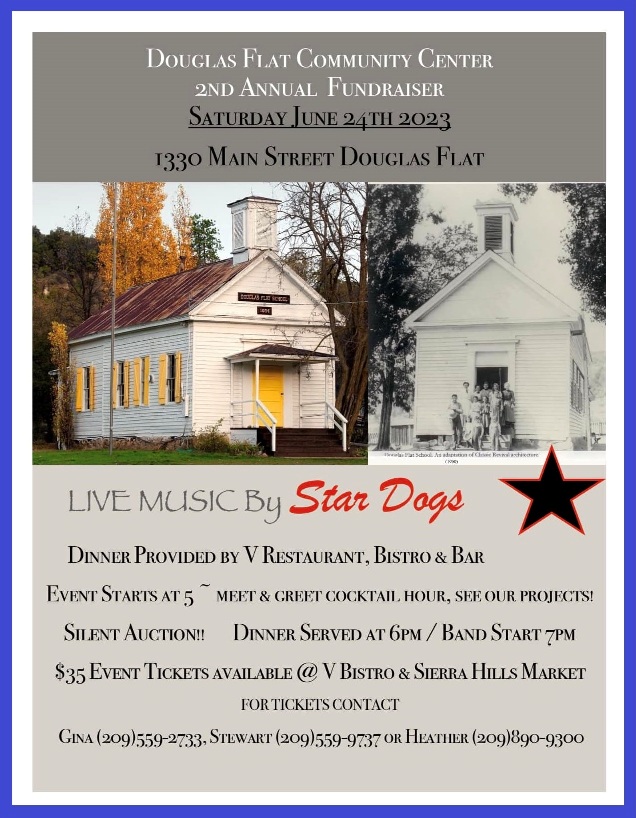 WELCOME. The Douglass Flat Community Center has been continuously welcoming generations since the Gold Rush. Located in Douglas Flat California (near Murphys and Angel's Camp.) Built in 1854, it is the oldest school house in Calaveras County. It served as a school for over a century. Since the beginning it has also served as a community meeting place hosting events from church services, weddings, art classes, plays, cub scouts and square dances. OUR MISSION is to keep the 170-year-old building's doors open well into the future. Major structural improvements are necessary. And other renovations are planned to restore the building to its original appearance. Also landscaping improvements would make the building more desirable for rentals, such as weddings, art classes and wine tasting events. The building is the ideal backdrop for photos! Duh.
Purposes of the DFCC Corporation, from Articles of Incorporation dated June 13, 1945 1. To sponsor, stimulate, and encourage meetings and assemblages of children and persons for religious, charitable, social, educational, and recreational purposes. 2. To sponsor, stimulate, encourage, conduct, and maintain entertainments, plays, and social gatherings for the benefit, amusement, recreation, pleasure, and inspiration of its members and the people of the community of Douglas Flat in general. 3. To stimulate, encourage and inculcate the principals of charity, justice, brotherly love and fidelity among its members and the people of the community of Douglas Flat at large. 4. To improve preserve and beautify the local school grounds, parks and places of historical interest in and about the community of Douglas Flat, in Calaveras County, California. 5. To promote the general welfare and encourage the happiness of its members and the people of the community of Douglas Flat in general. 6. To lease, purchase, hold, have, use, and take possession of and enjoy in fee simple or otherwise any personal or real property necessary to the uses and purposes of the corporation and to sell, lease, mortgage, deed in trust, alien (sic) (align?) or dispose of the same at the pleasure of the corporation and for the purposes and uses for which said corporation is formed and to buy and sell real and personal property and to apply the proceeds of sale including any and all income to the uses and purposes of the corporation.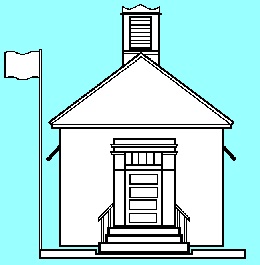 Douglas Flat Community Center P.O. BOX 73 Douglas Flat, CA 95229 For rental information contact John Kramer. johnhkramer@gmail.com For general questions. Questions@douglasflatschoolhouse.com Webmaster is Paul. Paul@paulsrobots.com This homepage was made possible by the generous support of the Bea Pettrocchi LRY Trust.